Elevate Your Outdoors: Adding an Outdoor Kitchen or Fireplace
At Patio 360 Outdoor Spaces, we believe your outdoor living space should be just as comfortable and functional as your indoor area. The addition of an outdoor kitchen or fireplace can truly elevate your outdoor living experience. In this blog post, we'll delve into the numerous benefits of adding these outdoor features to your space.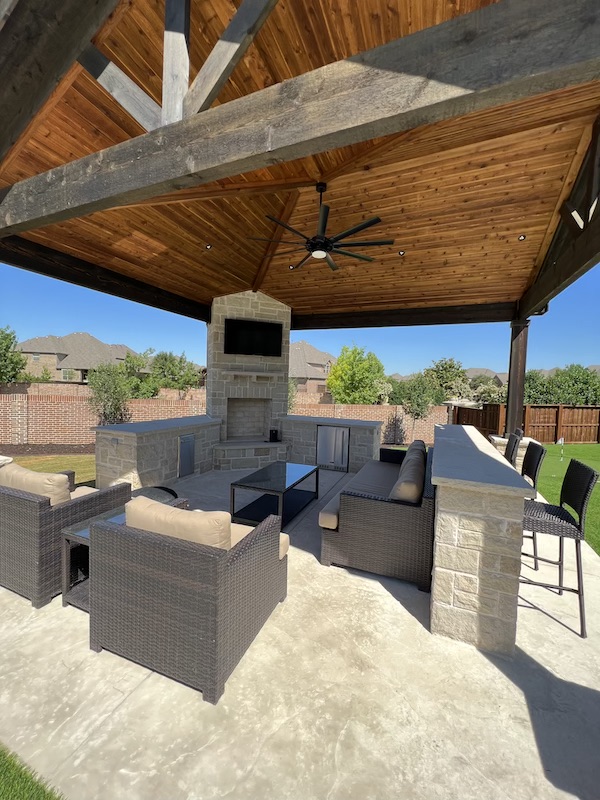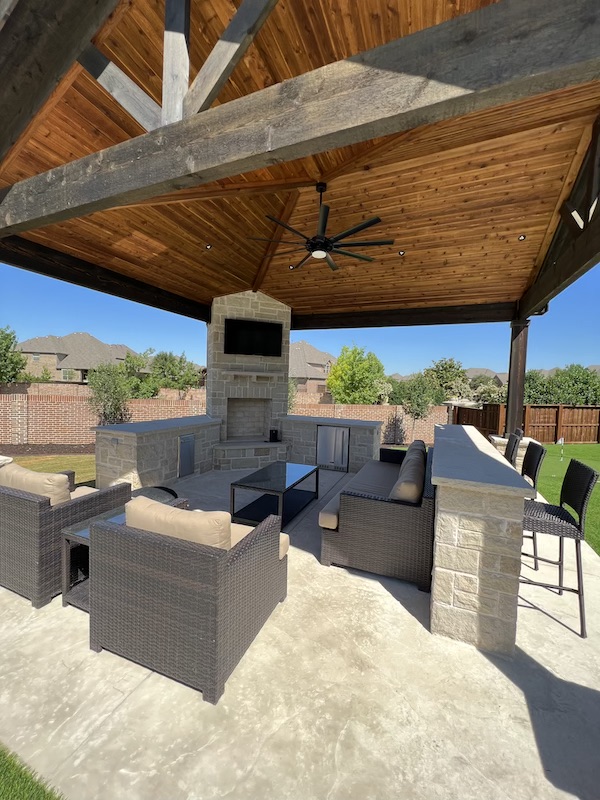 Transforming Outdoor Entertaining
With an outdoor kitchen, entertaining family and friends becomes a breeze. It provides a unique area for socializing, cooking, and dining, all while enjoying the beauty of the outdoors. No longer will you have to make trips back and forth from the kitchen to serve your guests. Everything you need is at your fingertips, allowing you to stay part of the conversation while preparing meals.
Creating a Cozy Atmosphere with an Outdoor Fireplace
An outdoor fireplace instantly creates a cozy, inviting atmosphere. It provides warmth during cooler months, extending the time you can enjoy your outdoor space. It also adds a beautiful focal point, around which seating can be arranged for relaxed conversation or quiet moments under the stars.
Boosting Property Value
Adding an outdoor kitchen or fireplace to your property can significantly increase its value. These features are highly sought after in today's real estate market. They not only add functionality to your outdoor space but also create an attractive selling point that can set your home apart from others.
Expanding Your Living Space
An outdoor kitchen and fireplace essentially create an extra room in your house, but without the cost of a full-blown home addition. These outdoor features provide a comfortable space where you can cook, dine, relax, and entertain, increasing the overall living area of your home.
Enhancing Outdoor Cooking
If you enjoy grilling, an outdoor kitchen takes your culinary experience to the next level. With the addition of a fridge, sink, and storage, you have everything you need for a full cooking experience right in your backyard. This can also help to keep cooking smells outside, especially beneficial when preparing strong-smelling or smoky foods.
Encouraging Healthier Living
Cooking outdoors can encourage healthier eating habits. Grilling often requires less fat than other cooking methods and helps to retain the nutrients in foods. In addition, spending time outdoors has been linked to numerous health benefits, including improved mood and reduced stress levels.
Customizing to Your Needs
With an outdoor kitchen or fireplace, you have the flexibility to customize the design to suit your needs and style preferences. Whether you prefer a rustic wood-burning fireplace or a sleek, modern outdoor kitchen, Patio360 Outdoor Spaces can help you design and create your ideal outdoor space.
Final Thoughts
Adding an outdoor kitchen or fireplace to your space is a significant investment that offers numerous benefits. From transforming your outdoor entertaining and creating a cozy atmosphere, to boosting your property value and encouraging healthier living, these features can truly elevate your outdoor experience.
At Patio 360 Outdoor Spaces, we are passionate about helping you create the perfect outdoor living space that suits your lifestyle. Contact us today to discuss your outdoor kitchen or fireplace project. We can't wait to help you create an outdoor space you'll love for years to come!