The Latest Outdoor Living Trends
Outdoor living spaces have become increasingly popular as homeowners look to create comfortable, functional areas to relax and entertain. As a result, the latest trends in outdoor living spaces focus on elevating the style and comfort of these areas. Patio 360 Outdoors is here to guide you through the most popular outdoor living trends and how to seamlessly incorporate them into your space.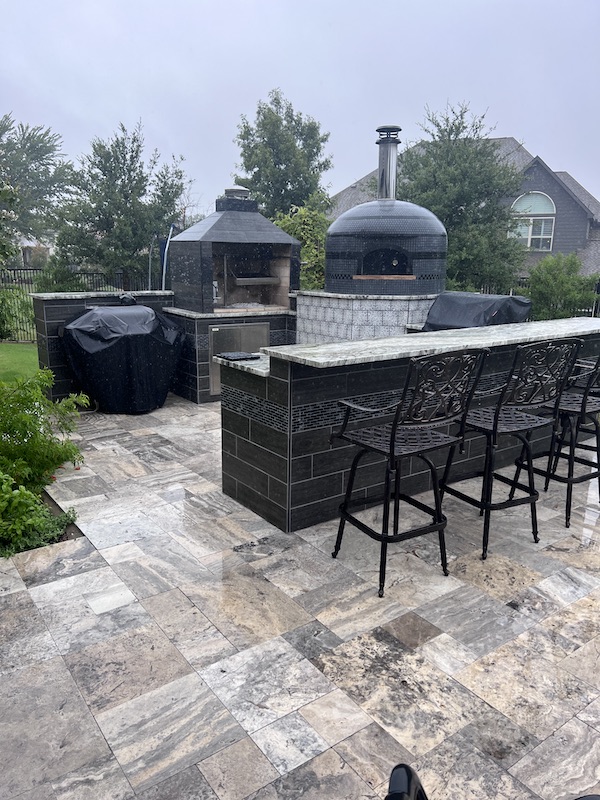 Blurring the Lines Between Indoor and Outdoor Spaces
One of the hottest trends in outdoor living is creating a seamless transition between your indoor and outdoor spaces. This can be achieved through the use of large sliding doors, matching flooring, and coordinating furniture styles. By blurring the lines between indoors and outdoors, you can create a more cohesive, spacious living area. Check out these inspiring ideas from Architectural Digest for inspiration.
Outdoor Kitchens and Dining Areas
Outdoor kitchens and dining areas have become a must-have for those who love entertaining. These spaces allow you to cook, serve, and dine al fresco while enjoying the beauty of your surroundings. Consider installing a built-in grill, refrigerator, and sink for ultimate convenience. Add a dining table with comfortable seating to complete the look. For more inspiration on designing your outdoor kitchen, check out these outdoor kitchen ideas from House Beautiful.
Cozy Fire Features
Fire features, such as fire pits and outdoor fireplaces, are becoming increasingly popular for their ability to provide warmth, ambiance, and a focal point for social gatherings. These features come in various styles, from rustic stone fireplaces to sleek modern fire pits. Browse through these fire feature ideas from HGTV to find the perfect fit for your outdoor living space.
Multipurpose Furniture and Accessories
Incorporate multipurpose furniture and accessories into your outdoor living space to maximize functionality. Look for seating that doubles as storage, such as benches with hidden compartments or modular pieces that can be reconfigured to suit your needs. Outdoor rugs and lighting can also add style and comfort to your space. Wayfair offers a wide variety of outdoor furniture and accessories to choose from.
Smart Technology Integration
Smart technology is becoming more prevalent in outdoor living spaces, with homeowners integrating lighting, audio, and even temperature control systems for added convenience and comfort. Consider adding weatherproof speakers, smart lighting that can be controlled from your phone, and even a smart thermostat to regulate the temperature in your outdoor living area. CNET has a great list of smart outdoor tech to get you started.
Incorporating these outdoor living trends into your space can help create a comfortable and stylish area perfect for relaxing or entertaining. Patio 360 Outdoors is here to help you design and build the perfect outdoor living space tailored to your needs and preferences. Contact us for a consultation and let us turn your vision into a reality.
Remember, when it comes to outdoor living spaces, the only limit is your imagination. Whether you're looking to create a cozy retreat for your family or a stylish space for entertaining friends, the team at Patio 360 Outdoors has the expertise to bring your dream to life. Don't wait any longer; get started on your outdoor oasi! Call us today!
#OutdoorLivingTrends #Patio360Outdoors #OutdoorLiving #OutdoorSpaces #OutdoorDesign #Entertaining #EcoFriendly #SmartTech