Year-Round Outdoor Entertaining: Kitchen Design for All Seasons
The joy of outdoor entertaining shouldn't be limited to the summer months. With thoughtful design and planning, your outdoor kitchen can be a hub of activity and enjoyment all year round. At Patio 360 Outdoor Spaces, we specialize in creating outdoor spaces that cater to every season. Here's our guide to designing an outdoor kitchen for year-round entertaining.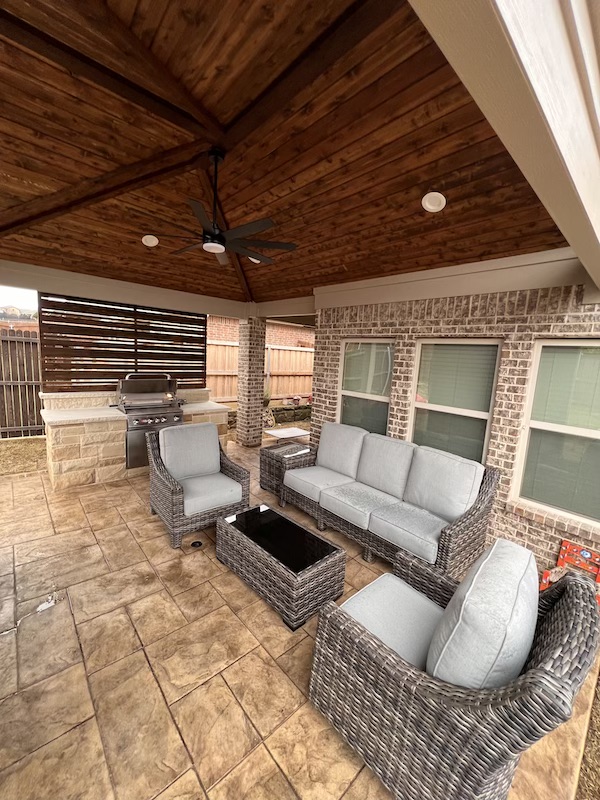 Designing for Comfort and Versatility
Your outdoor kitchen should be as comfortable and versatile as your indoor one. Consider incorporating features that can adapt to different weather conditions.
Shelter and Heating
To protect against the elements, consider incorporating a covered area in your outdoor kitchen design. This could be a pergola, awning, or gazebo. For cooler months, consider heating options such as a fire pit, outdoor fireplace, or infrared heaters. These elements can create a cozy atmosphere and allow you to use your outdoor kitchen comfortably even in cooler weather.
Cooling Solutions
For warmer months, consider installing ceiling fans or misting systems to keep the area cool. Shade solutions, like retractable awnings or umbrellas, can also help protect against the intense summer sun.
Lighting
Proper lighting is essential for evening gatherings throughout the year. Consider a mix of task lighting for cooking areas and ambient lighting for dining and lounging areas. Solar-powered or LED lights can be energy-efficient options.
Choosing Durable Materials
Your outdoor kitchen will be exposed to various weather conditions, so choosing durable materials is crucial. Opt for weather-resistant materials like stainless steel for appliances and granite or concrete for countertops. Outdoor-rated appliances are designed to withstand temperature fluctuations and other outdoor conditions. Learn more about selecting materials for outdoor kitchens here.
Planning for Storage and Cooking Needs
Having ample storage and versatile cooking options can make your outdoor kitchen functional throughout the year.
Storage
Include cabinets and storage solutions to keep your cooking utensils, dishes, and other necessities protected from the elements. Weatherproof cabinets can provide long-lasting durability.
Cooking Options
Think beyond the traditional grill. Including cooking options like a pizza oven or a smoker can add versatility to your outdoor cooking. A side burner can be useful for preparing sauces or sides, especially during the colder months when you might not want to move between your indoor and outdoor kitchens frequently.
Patio 360 Outdoor Spaces: Your Partner in Outdoor Kitchen Design
At Patio 360 Outdoor Spaces, we understand the value of an outdoor kitchen that can be enjoyed year-round. We are committed to helping you create an outdoor space that meets your needs for every season.
Whether you are starting from scratch or looking to upgrade your existing outdoor kitchen, we are here to help. Visit our website to learn more about our services and to get started on your outdoor kitchen project today.
Designing an outdoor kitchen for year-round use might require thoughtful planning and design, but the rewards are well worth it. Imagine enjoying meals with friends and family outside, regardless of the season. With the right design, your outdoor kitchen can become a favorite gathering spot throughout the year. Contact us today!